ABOUT DARREN HOLGATE
2023-24 is Mr. Holgate's 1st year at Pinecrest School leading our school community!
Darren Holgate grew up in the north of England about an hour north of Manchester where his parents and other immediate family still remain. He is the husband to Julie and father to Ella, Olivia, and Lily. He has extended family in Wales, Los Angeles, Florida and Baltimore. Fortunately, he loves to travel.
After completing his Bachelor's Degree in Education in Leeds England, in 2000 he focused on gaining educational experience in different schools and locations. He was the lead teacher in two different elementary schools in England, taught math to High School students, and also worked with special education students at a focused school in New Zealand. It was in 2005 that he emigrated to America, settling in Baltimore. He taught 4th grade at St. Paul's School for 5 years, then moved into a leadership position where he oversaw academic technology throughout the school and also taught classes to the High School students. Whilst at St. Paul's he was Inaugural recipient of the St. Paul's School award: "Nellie Hilleary Carter and Judge Joseph L. Carter Distinguished Chair in Innovative Teaching Technology" and presented at a number of conferences.
During his time at St. Paul's School, Julie and he got a golden retriever, Heidi, they got engaged, won a wedding on TV, got married, and grew their family with the arrival of their daughters Ella, Olivia, and Lily. 
Darren's first visit to America occurred back in 1997 where he was hired by Camp Airy, Maryland, to lead their summer rock climbing trips due to his experience and qualifications gained as a boy scout in England. He quickly fell in love with the camp and the country and would return a further 9 times before taking a break. During this decade he quickly became a department head of their outdoors program and oversaw hundreds of activities and off camp trips, supporting international staff and creating a fun, learning experience for campers. Inn recent years Darren has returned to the camp (as have his daughters and wife) and has worked as a photographer, a Covid Commander (2022) and is now a summer Assistant Director.
In 2009, Darren completed his Master's in Education at Johns Hopkins University. His focus was on Leadership in Technology Integration & Educational Leadership in Independent Schools. Using his experience and continuing education he was welcomed to Loudoun Country Day School in 2013 as their Lower School Director. Darren successfully led the school through the addition of a grade level, innovation in curriculum growth, and building upon their enrichment and resource program.
From here, Darren joined Powhatan as its Middle School Director in 2019. As with many in education, the following few years were heavily focused on the well-being of their community and the continuation of high-level teaching throughout extraordinary circumstances. The Middle School achieved all of these goals under his leadership. Classes and events thrived in spite of the alterations and restrictions put in place, new initiatives like Responsive Classroom were started, and the school was in-person from fall 2020 onwards. Personally, Darren completed the NAIS Fellowship for Aspiring School Heads program in 2022. This allowed him to develop new skills and connections as he looked ahead to the next steps in his career.
In July 2023, after a country-wide search, Darren became the next Head of Pinecrest School. The welcome and acceptance over the preceding months was a true reflection on the school and its community. He's very excited and proud to be joining such a genuine and forward-thinking school. 
Darren's true joys in life are his wife and daughters. He remains close to his parents and siblings' families, with Atlantic travel in both directions and frequent video-calls. He can also be found connecting with extended family and friends in many states, countries and continents. Further travel is likely in the near future. In addition to this you'll always be able to ask him what book he is reading, what computer/VR games he might be playing, and what home project he is currently undertaking. He can often be found recalling some obscure fact or news article, exploring some new technology, or playing with the family dog, Wesley (named after the Dread Pirate Roberts).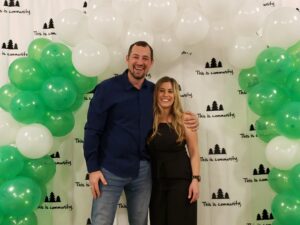 .