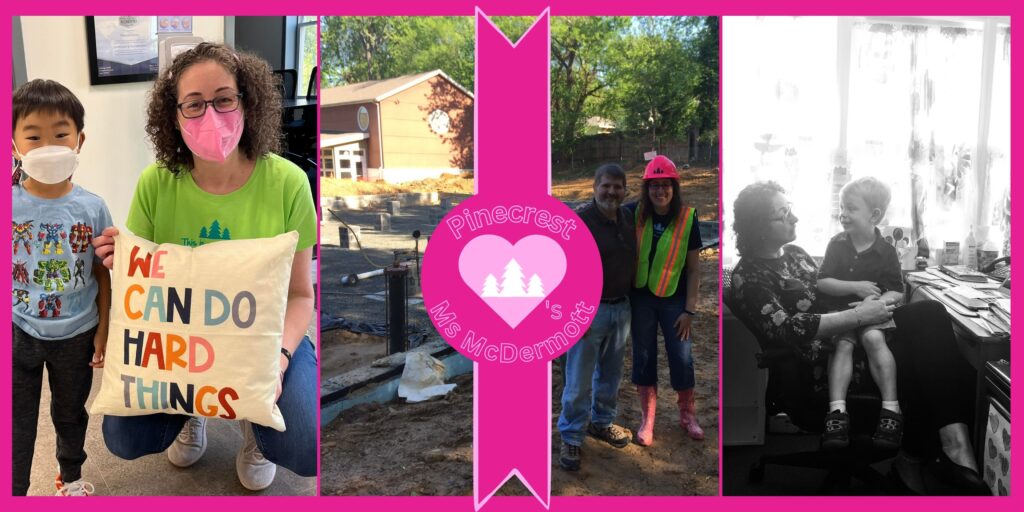 September 19, 2022
Dear Pinecrest Community:
On behalf of the Board of Directors, I am writing to inform you that, after almost 20 years of dedication and service to Pinecrest School, Nicole McDermott has notified the Board that the 2022-23 school year will be her last year at Pinecrest.  At the end of her current contract term on June 30, 2023, Nicole will have served as our Head of School for 18 years and, before that time, served as a third-grade teacher at Pinecrest for one school year.  She has been an integral part of our community for nearly two decades and we will greatly miss her presence next year and beyond.  We also understand that change in an organization and community is inevitable, and we wish Nicole all the best in her future endeavors after Pinecrest.
A message from Nicole to the school community is included at the end of this letter.
The Board of Directors would like to take this opportunity to express our strong admiration and gratitude to Nicole, a visionary leader, a committed educator and an exceptional person.  Nicole has led Pinecrest through an era of success and achievement that has advanced our school's educational program and strengthened our community.  Under her leadership, among countless other successes, Pinecrest opened our lower school building in 2017 and successfully navigated a global pandemic, offering in-person education for our students and families dating back to August 2020.  In addition, during her time as Head of School, Nicole was instrumental in getting Pinecrest accredited for the first time in 2008, ensuring that the school was successful in subsequent re-accreditations, overseeing the creation of our award-winning summer camp in 2007, expanding the school to sixth grade in 2009, introducing after-care for preschoolers and before-care for all students, and bringing mindfulness to Pinecrest in 2014.  She has also further benefitted Pinecrest by recruiting and retaining an extraordinary faculty and other school leaders.  Our teachers and staff have incredible talents and are a valued and integral component of Pinecrest's success and community.  They bring Pinecrest's mission and values to life every day.
Aside from her more tangible contributions, Nicole also embodies the values and culture that are at the heart of Pinecrest.  She is open-minded, empathetic, dedicated, transparent and forward-thinking.  She consistently lifts up our community and nurtures relationships within the community.  These character traits, together with her experience, knowledge and skill set, have enabled her to successfully guide Pinecrest over the course of her tenure, particularly in recent years under unprecedented circumstances.  In many ways, these intangible contributions to our community, which have touched and impacted so many lives, will be Nicole's most lasting legacy at Pinecrest.
The Board understands that change – and especially a change in leadership – is difficult and can be hard to process.  We also understand that Pinecrest is a community, and not just one person, and we are confident that Nicole is leaving Pinecrest well-situated for the future.  Our school is financially sound, with strong enrollment and a dedicated community, and we are in a position of strength to build on our already solid foundation – and as Nicole always reminds us: we can do hard things.   
The Board fully appreciates the magnitude of finding our next leader and we do not take this responsibility lightly.  The timing of Nicole's announcement gives us the opportunity to conduct a thorough search to find the best individual to lead Pinecrest going forward, and to also establish a smooth transition in leadership.  To guide the search process, the Board of Directors will form a search committee that I will co-chair with April Kreller, our current Board Vice Chair and parent of a second grader. The search committee will consult with, and seek feedback from, our faculty and staff, parents and other constituents.  We also intend to retain a third-party executive search firm that specializes in school placements and are currently in the process of interviewing firms to assist with our search.  Our process will be as transparent as possible, without compromising the confidentiality of candidates, and we will communicate additional information about the process to the entire community as that information becomes available.  To this end, the Board of Directors also plans to hold a community-wide Zoom meeting in the upcoming weeks so that parents and other constituents will have a forum to ask initial questions about the search process and speak with the Board directly.  More information about that will be shared soon.
We fully expect that our search will attract great talent and, in choosing our next Head of School, the Board will not compromise on selecting someone who embraces and exemplifies the community values and culture that make Pinecrest the special place that it is.  Our focus will be on finding a new leader that – like Nicole – values educational success, social and emotional development, equity, diversity and fostering a strong sense of community.
There will be many opportunities to thank and celebrate Nicole over the course of the remainder of the school year, but as you see her in the upcoming days and weeks in the drop-off or pick-up line, we hope you will acknowledge and express your gratitude for all she has done – and continues to do – for our school.
With respect to discussing this matter with students, Nicole talked about this with the Board and we have all come to the agreement that it is best for families to share the news with their own children in whatever way feels right. We recognize that each family has a different relationship with Nicole based on their years at Pinecrest. While we are very grateful for the long timeline Nicole has provided to us, we recognize that it is confusing for children as Nicole will remain at Pinecrest until the end of June 2023. 
Finally, I would like to personally thank Nicole for her extraordinary leadership.  It has been a privilege to serve on the Pinecrest Board of Directors for the past six years, including serving as Board Chair for the past two years, and to work with Nicole in this capacity.  I am looking forward to continuing our ongoing partnership for the remainder of the 2022-23 school year and am honored to call Nicole a collaborator and friend.  
Sincerely,
Steve Donahoe
Chair, Pinecrest Board
Current Parent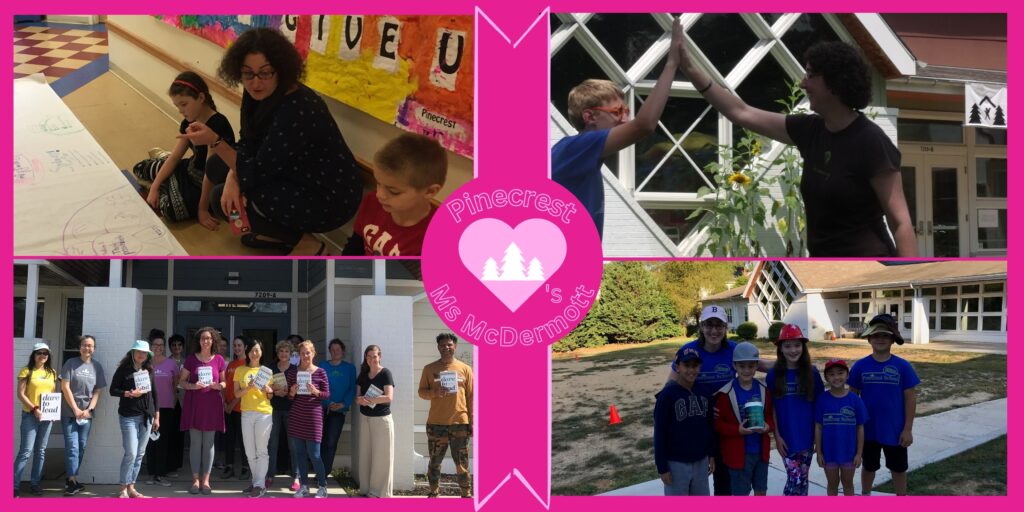 From Ms. McDermott:
Dear Pinecrest Community, 
In 2015, Jon Stewart announced he was leaving The Daily Show by saying, in part, "This show doesn't deserve an even slightly restless host." I remember watching on my treadmill the morning after and pausing both my running and the show so I could rewind and hear those words again. They resonated with me, and they've stayed with me. I think I adopted it as a sort of barometer, and now I really feel it.
My heart is here, and I think in some ways a part of my heart will always be here. And, holding multiple truths at once, I know in my heart it's time to think about my life after Pinecrest and for a new Head of School to have the opportunity to lead this dynamic and one-of-a-kind school community.
This school year (2022-23) will be my last at Pinecrest. It will mark eighteen years leading our incredible school (and nineteen total here – I taught third grade one year before becoming Head).
We're only 19 days into the school year so this isn't an immediate departure. I'll be here until the end of June 2023. There will be plenty of time for a lot more words, feelings, and photos – and I think many of us know that I'll have plenty! 😉
In the meantime, we have important work to do, and I want to keep showing up. This is critically important to me. 
How I feel about this big decision is not easy for me to say briefly: 
I have a full heart, and I feel very proud. I am slightly restless. I know I have less patience. For sure, I am exhausted. And, I feel tremendous gratitude for the lessons, growth, gifts, challenges, rewards, opportunities, generosity, quality people, talented teachers, sweet kids, grace, light, and love Pinecrest School has brought into my life. I have tears in my eyes writing this and thinking about saying goodbye. I don't know what's next and that's okay. Take it all together and I do think it means I'm ready. 
And, I think Pinecrest is ready too. 
This is the school's 65th anniversary year, and I believe Pinecrest is in one of its strongest positions ever: classrooms in both the upper school and lower school buildings are full of engaged, happy learners and teachers who are expert, dedicated, and so caring. Our enrichment classes are unique offerings, designed to meet this moment, and taught by talented and giving educators. Pinecrest Pavilion has been honored as a "best summer camp" many times over and provides a fun, safe, and enriching summer experience. Ms. Sambro, Ms. Sawyer, and Mrs. Conroy are thoughtful, organized, and conscientious leaders, and the Board of Directors is at capacity with current parents who are committed to the school's stability and long-term vision. Pinecrest is an award-winning, fully-accredited, and absolutely amazing independent school embodying the values of community, diversity, integrity, curiosity, and progressive education.  
The foundation of Pinecrest is solid, and I know that Pinecrest will meet this moment wholeheartedly and with grace. There's nothing I want more than for our school to continue to grow and thrive, and I will do everything I can to support the transition and be a positive force during my remaining time here.
I still feel awe when I think about the Pinecrest community members in 2005 who selected me to become the next Head of School. They saw something in me then, and it has been life-changing ever since. I will always be grateful. 
I don't know what exact words to use to fully convey what an honor it's been to be our Head of School since June 2005. I deeply appreciate the confidence and trust of the current Board of Directors as well as the previous seventeen Boards with whom and for whom I've worked. I worked closely with seven Board Chairs during my time as Head of School, and I learned something from each of them. I'd like to give special thanks to the three who are currently serving on the Board: Steve Donahoe, Nick Wakeman, and Susan Akers. These individuals encouraged and championed me and Pinecrest at every turn and have been integral to a great deal of the positive growth and change our school has seen over the past seventeen years. I've been so fortunate to have them cheering me on, and Pinecrest has been so fortunate to have their attention, time, and support. 
To the parents, guardians, and families whose students and campers have brought joy and light to my life and the lives of so many at Pinecrest over all these years: It is no small thing that you chose our school and/or our camp. Not only did this allow me and so many other talented educators to do what we love in a place that is like no other, it also, more importantly, gave us the opportunity to learn and grow together with your curious and confident children in meaningful, hands-on, and creative ways. We are all better for it, and thank you will never be enough for your trust and your engagement.  
And to those who learn, teach, and grow with us every day at Pinecrest now, I hope you will keep choosing our school. Every day, extraordinary things happen here, and lives are changed. Mine certainly has been. 
This is community. 
Onward – with the deepest gratitude,
Nicole McDermott