Moving on to Middle School (and Transitioning from Private School to Public School) by Ms. Mitlo

One day you're dropping your little one off for the first day of kindergarten, and in the blink of an eye you realize that it's almost time for middle school, with its lockers, crowded hallways, schedules to memorize, not to mention scarier things that you don't even want to contemplate.

Our small private school in Annandale recently hosted "Life After Pinecrest," an evening in which a group of our alumni and their parents gathered with our current fifth and sixth grade students, and their parents. Both students and parents were able to ask questions and get answers to help ease the anxiety that often accompanies this time of transitioning to middle school.

It's a daunting prospect for any parent, but all the more so when your first child is leaving the nurturing environment of a small progressive private school like ours, with its small class sizes and ample opportunity for individual attention, for a much, much larger (possibly public) school. "How will my child even be noticed in a class of 25 or more students?" parents wonder. And while that might be topmost in parents' minds, the students on the panel all admitted that their biggest worry before the first day of school was, "Will I make friends?" 

The good news: Pinecrest graduates Ava, Julia, Ryan, Ryan and Shiv, and their parents, were able to put everyone's minds at rest.

Overall, Pinecrest students have little problem making the transition. In fact, they seemed to be relatively unfazed by the whole experience. Ryan's first reaction was, "Wow, there are a lot of kids in these classes," but said that by the second semester he was used to that. While all of the students on the panel confessed to being nervous before their first day, they all agreed that once you get there, it's not so bad.

And all of them felt that they were ready for middle school. They had a solid academic foundation to build upon, or, as Ava put it, "A lot of the material was review for me." Shiv, Julia and Ryan echoed that thought, adding that the academics were not overwhelming because they were well-prepared.

Making friends was not so hard, either. Advice for future middle-schoolers was pretty straightforward: Be friendly. Look for a familiar face at lunch, like someone you recognize from your neighborhood, your sports team or Scout troop. Talk to people. Invite someone to eat lunch if they look lonely. (I would add that, for Pinecrest students who practice caring about the people around them at school every day, this comes pretty naturally.)

What about parents' concerns about class size and individual attention? Shiv gave great advice: "When you need help, you just go to your teacher during a study hall or you stay after school to get one-on-one time." (In FCPS, late buses run on designated days for students to stay for after school help and for extracurricular activities.) Students and parents all chimed in: Teachers are always there to answer questions. If you missed something or don't understand a topic, teachers welcome questions and visits. "There's always going to be an opportunity to let teachers know who you are," explained Shiv's mom.

This brought up an important point: In middle school, "It's your responsibility to get help. You need to speak up for yourself," Julia told the fifth and sixth graders. Again, all the students and parents echoed the thought. "If you're sick, you are expected to do the assignments at home," Ryan said. "You are responsible for your own actions." (Students and parents noted that both public and private schools use programs like Blackboard and Google Classroom to ensure that assignments and deadlines are easily accessible online.)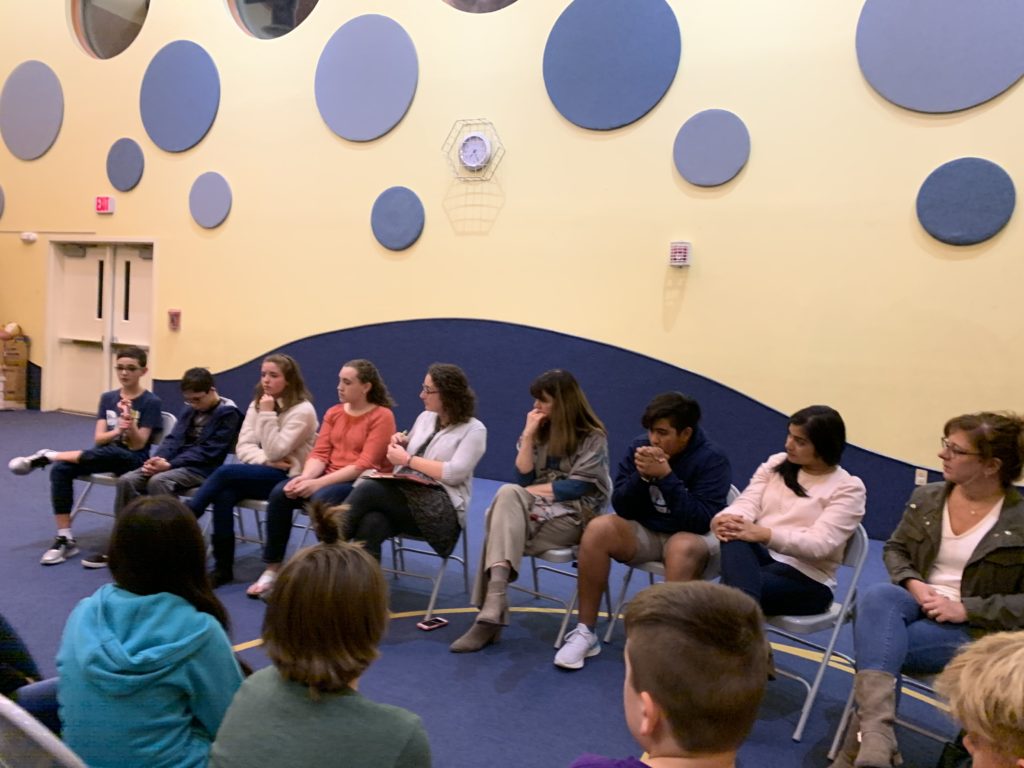 Other topics that came up were cell phone policies (depends on the school as well as on individual teachers), homework (manageable, not too much of it), and grading systems (students get traditional letter grades). Our fifth and sixth graders were excited to hear about choosing electives like band, chorus, drama, teen living, etc. as well as the many after-school clubs and activities (sports, art, Model United Nations, Science Olympiad).

I appreciated the chance to hear the concerns that parents and rising middle schoolers raised, and it warmed my teacher heart to watch my former students offer answers and advice with honesty, poise and confidence. But I'm going to end this post with a few words of advice of my own, from the perspective of a teacher, for parents who are worried about this pivotal shift in their child's future:

Teachers, at any grade level, really want to reach our students. We want them to learn. We strive to be effective. It's just as true at a public middle school as it is at Pinecrest.
I would have to make major adjustments if my class suddenly swelled to 25 or 30 students, but for middle school teachers, that's their normal. They may not love it, but they are used to classes of that size. They've learned and developed procedures and techniques and strategies for making sure that none of their students gets left behind, and their principals demand it of them. Trust them!
As a teacher, I like the older elementary grades. Some teachers only like the really young ones, or they prefer the give-and-take of teaching high school students. When my own kids were in middle school (which meant I was living with young teenagers, if you know what I mean), it surprised me to find out that middle school teachers ACTUALLY LIKE THAT AGE DEMOGRAPHIC, but they do, and God bless them.
Your Pinecrest students are really, really, really well-equipped to head on to seventh and eighth grade. Just like it says in our mission statement, they have developed "high self-esteem, independence, responsibility, and an eagerness to meet challenges."
And anyone who attended "Life After Pinecrest" could see for themselves in the former Pinecrest students who made up our panel.

Ms. Cindy Mitlo is in her 11th year of making a difference at our Annandale private school (and we're so grateful!). She currently teaches sixth grade. 
*Have a friend or neighbor who might be interested in learning more about our award-winning, quality Northern Virginia private school in Annandale?  Please invite them to contact us now and schedule a tour!